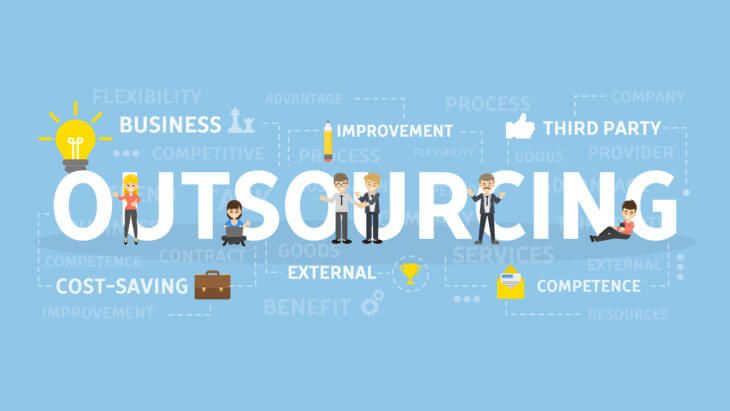 Many companies take on too many tasks because they feel it is a waste of resources to pay an external entity. But, the phrase, "If you want something done right, do it yourself," does not always apply in the business world. Small businesses routinely outsource their HR services, payroll processing, distribution accounting, and many other important functions as they have no other choice. While many large companies nowadays turn to outsource to cut costs. In response, outsourcing is a practice that is becoming very popular in the business world today and entire industries have evolved to serve businesses' outsourcing needs.
With outsourcing growth expected in the near future, let us take a look at the six reasons it can actually help your business thrive and provide a number of long-term benefits.
Everyone knows that time is money. Hiring and training staff for peripheral or short-term projects can be very expensive as you have to pay the salaries of all the new workers to accomplish the project. Additionally, even if your staff is capable of handling a task they may not always live up to your expectations. They may perform slower which will be taking time away from focuses of the business. Outsourcing often allows you to find the right talent at the right price and lets you focus your human resources where you need them most.
A great perk to outsourcing and hiring experts is that you do not have to provide management. Hiring a company externally means you can free up time to sit and relax while the job gets done. The biggest perk of all is that you can shift your focus from peripheral activities towards what really matters inside your business -your in-house resources and activities that make it profitable without sacrificing quality or service.
Odds are that your company is not an expert in HR services, IT management or accounting functions. Businesses can spend weeks and sometimes months just finding the right people for a particular in-house department. From there, you may be forced to train people and really adjust on to fly. At the end of the day, your business can be left with a hefty bill and nothing much to show for your money. By outsourcing, you are hiring experts in the industry. It means you are getting more passionate people in your company and are more likely to get more out of them than you would be able to afford on your own.
With the uncertainty that surrounds today's global economy, businesses need the ability to downsize or expand quickly. Unfortunately, that is not always possible due to today's labor laws, as employee lawsuits are at an all-time high. But, outsourcing can take that risk away and allows businesses to adapt more quickly to the slowing or rising demand.
Every business investment has a certain amount of risk. That is another top reason why companies choose to outsource. Markets, government regulations, financial conditions, competition, and technologies change very quickly. Outsourcing companies manage this risk for you and are generally much better at deciding how to avoid risk in their areas of expertise and provide a level of continuity to the company.
No long-term commitment means that you can shop around to hire more employees to handle new business tasks. It only saves costs but provides commitment. It is easier to stop working with a company you contracted to do a job than firing employees that are not as good as expected. If you are not happy with the way a job is done, you can find another company to take on the job till you find the right match for your business.
There are reasons for outsourcing to be a popular option these days. It can save you money and get your business through a temporarily tough time. You can work with a single independent company or commit to a large resourcing company, depending on your needs.